Super Duster 134

Removes microscopic dust, lint, and foreign particles. Cleans computers and keyboards, photographic and audio / video equipment, coin counters, printers, timing devices, cash machines, optical equipment, fax machines and other electro mechanical instruments.


100% HFC 134A gas
100% Ozone safe
Non-VOC
Non-flammable
Non-conductive
Zero residue
High flow delivery system

402A-450

---
Super Cold 134
Chills to -51°C (-60°F)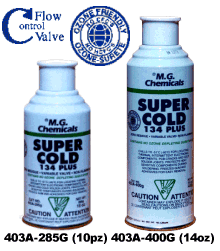 Used for locating thermal intermittent electronic components, PCB cracks, and cold solder joints. Protects heat-sensitive components during soldering. Also feezes gums and adhesives for easy removal.
100% HFC 134A gas
100% Ozone safe
Non-flammable
Non-conductive
Zero residue
Variable valve allows greater user control
403A-285
403A-400